Our donors' gifts to the future
We thank all our donors for their generous support. Here one of them shares his thoughts on giving through a charitable remainder trust.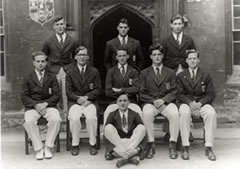 Donald 'Jock' Mackay, Lincoln College, 1944
Lincoln College alumnus Donald 'Jock' Mackay (1944) has the distinction of being the first individual to create a Charitable Remainder Trust (CRT) through Oxford Planned Giving.
Jock came up to Oxford on a State Scholarship to read physics, but switched to chemistry to avoid the glut of physicists that war had produced. "I could see no future in radar, transistors, computers and all that telecommunication nonsense," he jokes, "but wisely recognised that people would always want to blow each other up with better explosives." A keen sportsman, Jock represented the College in football and rugby, and tried out for the University in boxing and athletics. He was also a dedicated rower, winning his Blue in 1947 – the first Lincoln student to do so since the early 1920s.
After finishing at Lincoln, Jock took a PhD at Yale University, followed by a postdoctorate year at Purdue University, where he "learned that the academic life was not for me". Now President of Applied Microbiology, a small biotech company in New York City, Jock's career started in research management, working for companies such as General Foods, Coca-Cola, Booz Allen Hamilton and Bristol-Myers Squibb.
Jock has been a long-time supporter of Lincoln College, making regular employer-matched annual gifts through the generosity of his former employer, Bristol-Myers Squibb. More recently, Jock discovered the significance of Charitable Remainder Trusts. He says, "They offer the best value for money. By generating a steady annual income, a CRT helps diminish one's own concerns for living costs and frees one to make a gift sizeable enough to be of significance to the College. Also, giving in this way forces one to live a clean, healthy life without tobacco and trans fatty acids to cut short the income stream! Truly an incentive, plus the satisfaction of knowing that a major gift will go to the Americans for Oxford with a request that they support the next generation of scholar athletes at Lincoln, no matter what way or time they choose to return to College."
Asked what he most remembered about his time in Oxford, Jock says, "I appreciated Lincoln for its collegiality, its conviviality, the friendships made, and its close-knit spirit." He concludes, "I believe it is important for alumni to give to their college because others who went before gave to help us. There are real links made over the course of four years, links that are not to be broken, but maintained to ensure the continuity of one's own associations to College, to the friendships we made there and to the memory of key figures in our joint past. Memories are priceless. They helped make us what we became. They deserve to be rewarded."
Picture reproduced by kind permission of the Rector and Fellows of Lincoln College, Oxford.