Our donors' gifts to the future
We thank all our donors for their generous support. Here is one of their stories about planned giving.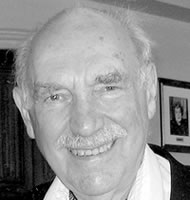 Jarvis Doctorow, St Edmund Hall, 1948
When Jarvis Doctorow sold his building in New York City to Columbia University, he knew he wanted to do something big in terms of philanthropy. Even though Mr Doctorow and his wife, Connie, have always been generous donors to the University of Oxford and other causes, he saw this as an opportunity to be philanthropic on a larger scale.
Several years ago Mr Doctorow first came up with the idea of a charitable remainder trust that would benefit his children and his alma maters; he turned to Oxford University's New York offices to explore the options. Following the formation of the Office of Planned Giving, he was able to get the further guidance needed in order to develop a complete solution. Mike Penfield, Oxford University's planned giving expert, was able to work with Mr Doctorow and his financial advisors to identify a plan that best suited his wishes.
The result was an immediate outright gift of cash to St Edmund Hall, enabling them to plan a much needed lecture hall, followed by the founding of the Jarvis and Constance Doctorow Endowed Junior Research Fellowship. The fellowship in International Relations for the Study of Conflict Resolution in the Middle East was established with the Politics and International Relations Department at St Edmund Hall. A donor-advised fund will yield income for ten years, after which money will be made available to the University to endow this position permanently. By working with the University's New York offices and its planned giving advisors, Mr Doctorow was able to plan a gift that will significantly benefit his alma mater – both now and in the future.
Underlining Jarvis Doctorow's commitment to the University of Oxford, he has persuaded Columbia University to establish a fully funded scholarship for a Columbia student to attend St Edmund Hall, Oxford, each year for the next 40 years. He also continues to support postgraduate scholarships at St Edmund Hall.