Making a personal planned gift
We thank all our donors for their generous support. Here, one of them shares his expertise on planned giving.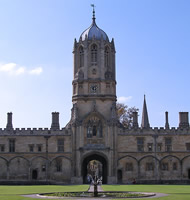 Captain D L McGurk, Christ Church, 1949
Captain D L McGurk matriculated to Christ Church as a Rhodes Scholar in 1949 where he studied PPE and enjoyed lacrosse and polo at the University level. After finishing his studies, he had a full career in the US Air Force, the computer industry, and venture capital. He eventually retired as Chairman of the Board of Southland Title Corporation. Here, he gives his personal view of the benefits of planned giving.
"Most Americans have very little good to say about Federal Income Tax, or the Internal Revenue Service (IRS); and it is gigantic, complex and discriminatory. But there are some provisions that are very friendly and useful to those who understand and take advantage of them. For example, many grandparents, and in fact parents, can 'hire' their children (instead of giving them an allowance), have them put this 'salary' into an Individual Retirement Account (IRA), and make them financially independent in middle age through the magic of tax-free compounding. As long as the sum is less than $600 per year per child, no government taxes are payable, no report need be made, and all that is required is the grandchild must file an annual tax return.
Another great provision is the one that permits charitable remainder trusts. By utilizing this provision, one can establish a lifetime income, avoid capital gains taxes, and leave money to a charity upon death. After all, when one passes away, the IRS takes a good slice of your estate before permitting your heirs to receive any thing of value, unless you have made provision with some tool such as a charitable remainder trust. It is a tool that is essential for anybody expecting to pass away in the foreseeable future, who has a net worth greater than the current exemption allowed by the IRS. Trusts can also be set up in a will. Your assets will eventually pass to the charity but will provide an income stream for the beneficiaries for their lifetime or a term of years, which ever you determine works best.
It works like this: you donate assets – preferably with a low cost basis – into a trust which you establish. That trust is exempt from Federal Income Tax, so that the assets can be sold without creating taxable capital gains. This Corpus is then used to establish a lifetime income for you and, ultimately, a significant gift is passed on to your charity of choice. The result is an immediate deduction against income for the value of the trust residual, an income for life, and the ability to benefit some of the institutions from which you have benefited, such as Christ Church. Although one thinks of The House as being wealthy, times have changed. The need for additional funds beyond the College's tight budget are real, and Americans, who are used to contributing to their alma mater in the US, really need to step up and help an institution that gave us so much when we were 'In Stat Pup'. Many well-to-do individuals are reluctant to give too many of their low yielding assets to charity. By working with trusted advisors, a charitable remainder trust can be set up to give these underperforming assets to charities, while still benefiting from a higher yielding income for life and maintaining enough assets to continue to live as one wishes."
Through the Office of Planned Giving in New York, the University of Oxford has its own experts who are ready to work with you or your own advisors on your planned gift. Of course, anyone wishing to make such a gift should always consult their own legal advisors, regardless of who has helped to make their arrangements.
Return to all donor stories